We offer an outstanding K-8 public school option for families wanting to home school their children and our school is fully accredited by the Western Association of Schools and Colleges (WASC). Each family works with a highly qualified teacher to support their studies at home. Parents and students meet with their teacher on a regular basis for resources, assessment, support and discussions of student progress. Teachers and parents work collaboratively to ensure that each student's academic needs are met. We follow the California State Content Standards and curriculum is provided for all grade levels.
Additionally, students can choose the option of attending classes two days per week in core subject areas with work assigned for completion on the home days. Classes provide an opportunity for students to learn, interact, and collaborate with their peers.
Several family events and fieldtrips are held each year, providing enriching experiences while enhancing our school's sense of community. If you would like to schedule an individual information appointment, please contact us.
________________________________________________
SAVE THE DATE!

"Mathquerade Ball" at CHSA!
Charter Home Study Academy's fourth-grade core class celebrated their mastery of multiplication facts with a Multiplication "Mathquerade" Ball. Throughout the year students have been working on using the four mathematical operations to solve problems, to practice the academic language of math, and to generate and analyze patterns. To celebrate and demonstrate their abilities, teacher Sue Beaudette created the "Mathquerade" Mystery Ball. Using terms in the academic language of multiplication such as factor and product, students had to determine which numbers were "invited to the ball".

Principal, Steve Bryant, and middle school teachers, Coral Brunet and Julie Donner made guest appearances during the ball to provide more mathematical sentences and to allow students the opportunity to demonstrate their knowledge.

"The students enjoyed having the staff come in and celebrate their skills. This gives the students a new avenue to engage in the standards and to demonstrate their abilities in a fun and interactive way," stated Sue Beaudette. The students added that they loved making the masks and were excited to show off their knowledge.

The Mathquerade Ball is the most recent of many activities at CHSA that not only make learning fun and engaging, but also facilitate enriching social events for home school families.

Charter Home Study Academy K-8 (CHSA) program is a public school option that provides support for families choosing to educate their children at home. Parents facilitate daily lessons, enrichment activities, and correct student's work. Parents choose from a variety of program options including half-day, twice-weekly classes in grades K-5, full-day, twice-weekly classes for grades 6-8, art-based writing labs, music programs, and skills improvement labs. Staff and parents collaborate to create an individualized academic plan for each student. For more information on the programs or to enroll a student, please call (530) 622-6984 or go to www.chsa.edcoe.org.
"Mathquerade" students at CHSA!
What's New?
CHSA craft faire tradition continues
On Tuesday, December 3rd, Charter Home Study Academy's (CHSA) multipurpose room was filled with eager customers traveling from booth to booth to purchase homemade creations from student business owners. CHSA's Craft Faire, where transitional kindergarten through eighth-grade students sell art, holiday decorations, hand-made toys, international cuisine, and more, has become an annual tradition for many in the Charter Alternative Programs community.
The event, now in its 21st year, celebrates the variety of unique artistry skills that students of CHSA have while fostering entrepreneurial proficiency.
This event is designed to allow students to experience entrepreneurialism by developing an idea for a product, creating a business plan, obtaining materials, marketing and selling their product." said school Principal Steve Bryant, "Our goal at CHSA is to create opportunities for each student to discover a deeper understanding of self and their relationship to the world around them."
In addition to learning how to run their business and making a little money, students also received prizes in categories such as Master Entrepreneurs, Best Marketing, Best Display and Most Innovative Products.
Winners
First place, Master Entrepreneur — Britton Chaloupka - Grade Eight
Second place, Master Entrepreneur — Evelyn Shugart - Grade Four
Third place, Master Entrepreneur — Devin Houk- Grade Four
Best Display — Riley Smith - Seventh Grade
Best Marketing — Jacob and Jarrod Berry - Grade Eight, Grade Five
Most Innovative Product — Kadence Gobble - Grade Eight
Best Slogan — Mabel Hinds "If you want treats for your table, come see Mabel" - Grade Three
Best Logo — Lilah Hinds - Grade Six
Best Business Card - Peyton and Taylor Smith - Grade Four, Grade First
The CHSA program, which is located in El Dorado, provides significant support and resources for families who choose to homeschool their children. Students have the option to attend classes in core content areas, or do their studies entirely at home, guided by parents and supported by credentialed teachers.
More information about the Charter Home Study Academy program can be found at chsa.edcoe.org or by calling (530) 622-6298.
Messers Mining Company conducting a sale

Evelyn Shugart displaying her hand made snowman lights

Devin Houk and his cat-fishing poles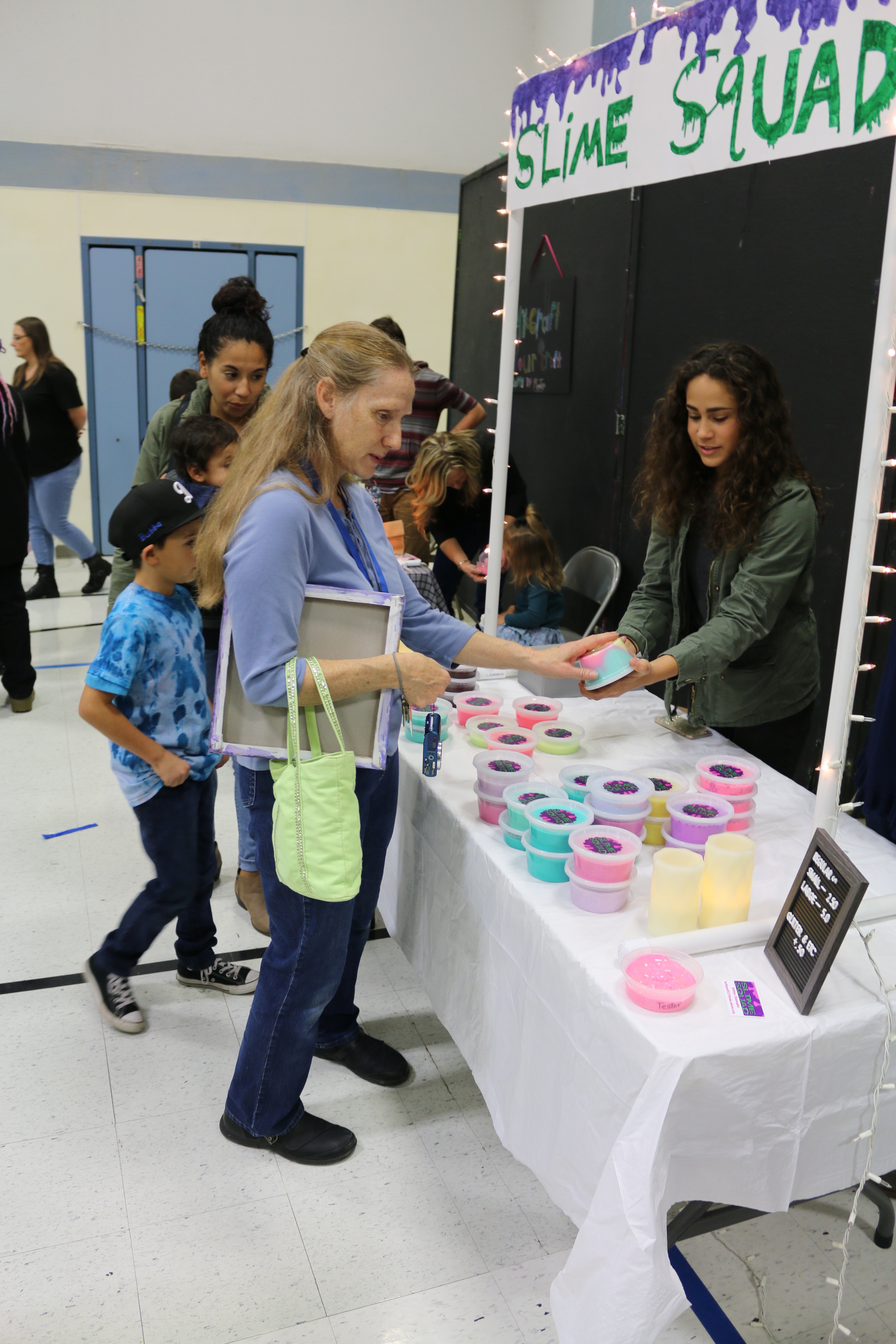 Britton Chaloupka, Master Entrepreneur winner, in her "Slime Squad" booth
July, 2019
Dear Charter Home Study Academy Families,
Welcome Back! I hope you had a fantastic summer and are rejuvenated as we begin another school year. Our entire staff is looking forward to an exciting year of partnership with you to provide educational excellence for your children. In this letter, you will find important information for the start of school.
Important Dates - The first day of school is Tuesday, August 13th.
The first day of the K - 5th core class is Tuesday, August 20th.
The first day of the 6th - 8th core class is Wednesday, August 21st.
Meet and Greet – This is our kick-off event for all students and parents on Tuesday, August 13th (please refer to the flier below). Families will meet the teachers, receive the first-week assignments for grades 6-8 classes, attend information meetings for K-5 classes, pick up class supply lists, and much more. At the K-5 information meetings (for students attending core class) - you will hear from your student's teacher about the year they have planned, including curriculum, activities, class expectations, and parent-teacher communication. It is important to attend these meetings in order to receive necessary information. Attached is the flier for the Meet and Greet.
6th – 8th First Day Classes – On the first day of core class, Wednesday, August 21st, parents and students will attend together at 8:30 a.m. in the multi-purpose room. Students will attend the full day, until 3:25 p.m. After visiting all of the classes together to hear from teachers about the year they have planned, including curriculum, activities, class expectations, and parent-teacher communication, parents will have a special program back in the Multi-Purpose Room until 12:30 p.m. It is important to attend in order to receive necessary information.
School Pictures and I.D. Cards– Ultimate Exposers Photography will be here on Wednesday, August 28thand Thursday, August 29th, to take student portraits. All students will be photographed for an I.D. card, and pictures will be available for purchase.
Class Schedule for Core Classes:
Tuesday / Thursday
K, 2nd, and 4th - 8:30 a.m. - 11:30 a.m.
1st and 3rd - 12:30 p.m. - 3:30 p.m.
5th - 11:30 a.m. - 3:30 p.m.
Wednesday / Friday
6th -8th - 8:30 a.m. - 3:20 p.m.
School Lunch Program: Lunch is available each and every day on campus from 11:20 -11:50. Students in grades K, 2, 4 and 5 can order lunch in the office by 8:30 each day and pick it up before or after class. Students in grades 6-8 will place their order each morning in the CHSA office and will be served during the school lunch period. Students in grades 1 and 3 can still take advantage of the lunch program. Please see office staff to work out times to pick up lunch. The menu will be posted in the office and on the website. The Lunch / Title 1 form will be available at the Meet and Greet.
Communications:
ParentSquare will continue to be our main avenue for communication via text and email for school-wide information and events. Please notify staff at the Meet & Greet if your personal contact information has changed.
Website: Please check the website often as it contains up-to-date information on school and community events. chsa.edcoe.org.
Social Media: As the year progresses, we hope to take a more active role on social media platforms to let other community members know what amazing families attend our programs and to showcase all that CHSA has to offer. If you are on social media, please find @charterhomestudyacademy and Like on Facebook, and Follow on Instagram.
What's New – This year we have four new faces joining Charter Home Study Academy. As most of you know, Collette Dickerson, Paula Wohlwend, and Dianne Deitchman retired at the end of the 2018-19 school year. We are all sad to see them go, but we are excited to hear of their next journeys. This also gives the opportunity for new and, for some, familiar faces to join the team. Amy Butera will join our office staff on Wednesdays and Fridays to help with the busy office times as well as lunch and break supervision. M.C. Abajian is a former home school parent who will now be the 5th grade core teacher. Coral Brunet is joining the team as well and will be teaching 6th grade science. The final person joining the team is myself! I will be the new principal for Charter Home Study Academy. I've been with Charter Alternative Programs for over twenty years working primarily with High School students at Charter Connections Academy (in the building right next door). I'm excited to work with our K-8 families and to continue to provide a nurturing and safe academic environment for our families.
We appreciate you choosing Charter Home Study Academy K-8 as your family's educational partner! If you have any questions, please do not hesitate to check in with your caseload teacher or call us at 530-622-6984. Again, on behalf of our entire staff, welcome back and we look forward to seeing you soon!
Sincerely,
Steve Bryant, Principal
Charter Home Study Academy K-8