We offer an outstanding K-8 public school option for families wanting to home school their children and our school is fully accredited by the Western Association of Schools and Colleges (WASC). Each family works with a highly qualified teacher to support their studies at home. Parents and students meet with their teacher on a regular basis for resources, assessment, support and discussions of student progress. Teachers and parents work collaboratively to ensure that each student's academic needs are met. We follow the California State Content Standards and curriculum is provided for all grade levels.
Additionally, students can choose the option of attending classes two days per week in core subject areas with work assigned for completion on the home days. Classes provide an opportunity for students to learn, interact, and collaborate with their peers.
Several family events and fieldtrips are held each year, providing enriching experiences while enhancing our school's sense of community. If you would like to schedule an individual information appointment, please contact us.
Charter Students Come Together to Game
Students from Charter Alternative Programs held their first gaming event of the 2018-19 school year on Friday, August 31st. This Welcome Back gathering was open to all 6th through 12th-grade students attending Charter Connections Academy (CCA), Charter Home Study Academy (CHSA), and Charter University Prep (CUP). Levi Ainsworth, a member of the CCA student leadership, organized the event to bring students together in a setting outside of the classroom. "Gaming is a great way to get students to interact who may not know each other very well. We play a variety of video game systems, so there is a game for everyone!" exclaimed Ainsworth.
Wyatt Wells and Timothy Moss, students from Charter University Prep and Charter Connections Academy, 'came to hang out and play games together', as explained by Wells. Steven Bryant, Coordinator for CCA elaborated, "The games are all family-friendly and allow the kids from various programs to get to know each other while having a great time. It doesn't matter which Program you attend, it's all about exercising your skills, making friends, and having fun".
Charter Home Study Academy K-8 invests in families who choose to be active participants in their children's education. Charter Connection Academy's (9-12) mission is to prepare students for success in future careers and targeted advanced education. Charter University Prep (7-12) students take rigorous academic courses as well as advanced courses at Folsom Lake College during their Junior and Senior years.
For more information on the programs available at Charter Alternative Programs, please go to charter.edcoe.org.
What's New?
Charter Home School Academy Craft Faire celebrates 20 years
On Thursday, November 15th, the Charter Home Study Academy (CHSA) program celebrated the 20th anniversary of its annual Student Craft Faire, where student entrepreneurs peddled their wares to customers of all ages. Each booth, staffed by a student crafter between transitional kindergarten and eighth-grade, sold handmade products such as jewelry, toys, cuisine, and decorations. By having students create and run their own business, the Craft Faire aligns to CHSA's mission of building and applying foundational skills in ways that make learning engaging, relevant, and fun.
"In order to participate, students must submit a business plan that outlines their products, prices, and marketing strategy," said school administrator Dianne Deitchman. "In doing so, students gain valuable experience in creative thinking, economics, and money management."
After selling their wares, vendors visited classmates' booths to barter and purchase goods. Students also received prizes in categories such as Master Entrepreneurs, Best Marketing, Best Display, and Most Innovative Products.
Winners:
1st Place: Master Entrepreneur - Peyton Smith, 3rd grade, patriotic signs
2nd Place: Master Entrepreneur - Riley Smith, 6th grade, western-themed decorations
3rd Place: Master Entrepreneur - Abby Montgomery, 8th grade, hot cocoa & desserts
Best Display: Evelyn Shugart, 3rd grade, created a tiny bedroom to display her doll pillows
Best Marketing: Hunter Tranum, 7th grade, superhero & Disney truffles
Most Innovative Product: Kadence Gobble, 8th grade, decorative succulents
Best Slogan: Levi Morton, 6th grade, "Take a ride on the sugar side"
Best Logo: Riley Smith, 6th grade, "Lucky Buckaroo"
Peyton Smith, winner of the Master Entrepreneur award with her storefront, Peyton's Patriotic Signs, made an impact on the judges with her business cards, slogan, and overall theming, decorating her booth in red, white, and blue as well as wearing clothing featuring stars and stripes. "I spent a lot of time thinking about what I wanted to sell this year," noted Smith. "My brother won last year, so I worked hard to put as much effort into my store as he did. I was happy with my store and how I supported our country while learning about business."
The CHSA program, which is located at the Charles Brown campus, provides significant support and resources for families who choose to homeschool their children. Students have the option to attend classes in core content areas, or do their studies entirely at home, guided by parents and supported by credentialed teachers.
More information about the Charter Home Study Academy program can be found at chsa.edcoe.org or by calling (530) 622-6984.
Peyton Smith, third grade, Master Entrepreneur winner, selling her wares with her siblings
Hunter Tranum, seventh grade, best marketing winner, displaying his themed chocolates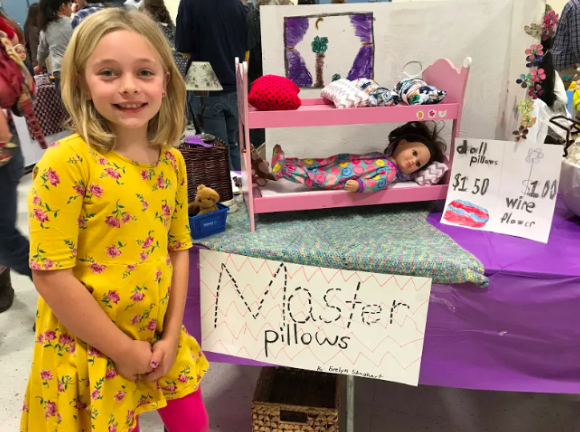 Evelyn Shugart, third grade, with her award-winning doll pillow display
Charter Home Study Academy's Innovative Math Program Yields Positive Results
Thanks to a new, innovative math support program at Charter Home Study Academy - students, parents, and teachers are seeing increased academic engagement and performance this year. The positive results are reflected in students' real-world understanding and excitement about math.
"I like math in this new class!" said 3rd grader Evelyn Shughart. "We do lots of activities and games that make math way more fun!"
As a means to support parents teaching math at home, Kindergarten through 5th-grade classes added an hour a week of conceptual and visual math instruction, while students in grades 6-8 supplement core classes with an extra period devoted to math exploration and discovery.
"Parents appreciate our ability to build on foundational math skills vital for student success," noted Program Administrator Dianne Deitchman. "Our program provides an unparalleled amount of support for home school students to succeed in rigorous mathematics courses."
Students strengthen their math skills through engaging conceptual and visual instructional strategies. For example, 3rd-grade teacher Laurie Powell recently taught her students the concept of a perimeter by having them surround various items in the class with different lengths of string.
"The new classes are showing students that solving real-world math problems can be fun," noted 6th-grade teacher Julie Donner. "Students are enjoying the new courses and readily applying what they learn. The average score of our last chapter test was 27% higher than last year."
Charter Homes Study Academy's unique program serves TK through 8th-grade families who homeschool their children. Classes are offered for a portion of the week so that students can receive direct instruction and support from credentialed teachers while collaborating with peers.
More information about the Charter Home Study Academy program can be found at chsa.edcoe.org or by calling (530) 622-6984.
Adriana Santana, Maddox Greco, Steven Hernandez, and Ally Summers collaborating during Math Expansion
Evelyn Shughart practicing newly learned math skills